YADIM CARRENZA, simply known as Yadim to the fashionistas, is a Mexican-American make-up artist born in San Diego, California. Yadim started out as a sales assistant for Mac Cosmetics, soon joining the brand's professional make-up team to work on fashion shows.
When he moved to New York he became assistant to Make-up maven Pat McGrath ( no introduction needed there) for almost 5 years, before going it alone in 2011.
Yadim instantly joined the Tim Howard Management Agency ( the same agent as myself in NYC) and has swiftly gone on to work with some of the brightest names in fashion, Lachlan Bailey, Dan Jackson, Sharif Hamza, Patrick Demarchelier to name a few. He describes how he does make up as making it a  "bit pretty, to then make it a bit strange" and has no qualms about taking this concept to the extreme.
In January 2012 Yadim was named as the new International Make-up Designer for Dior  when at the same time he was interviewed for the upcoming April 2012 issue of Vogue Paris, where he appeared as the one of the top four future hair and make-up people in the issue.
I was introduced to Yadim only last year after he joined Tim Howard but have been lucky enough to have now worked with him on a few editorial and advertising shoots and one of the most refreshing things about him is his immense enthusiasm for his chosen career. He oozes passion and has an amazing sensibility towards his work, ( as well as a wicked sense of humour) that I can only see him going from strength to strength. Having assisted Pat McGrath for so long, he really knows his craft,  and for me he's one of the few examples of today's rising hair and make-up stars that has put in the hours, days, weeks, months and years and the blood, sweat and tears too,  just to be great at their job without a concern for only 15 minutes of fame, that so many young people seem to seek these days.
Featured amongst his Q&A are some shots of Yadim's work including one from a Dior Beauty special that he recently worked on for the Vogue UK November 2012 issue, that is currently out now!!
Here's a cheeky peek into his life.  GO YADIM !!!!
WHAT DID YOU WANT TO BE GROWING UP.
 An architect or Pop Star. Don't ask …
 HOW DID YOU END UP DOING WHAT YOU'RE DOING NOW.
 Got my start by selling makeup at a local make-up counter in California.
 WHO WOULD YOU LIKE TO BE IF YOU WEREN'T YOU?
 Any of Brangelina's 15 children
 WHERE DO YOU LIVE?
 NYC
 IF YOU COULD CHANGE ONE THING IN YOUR CITY WHAT WOULD IT BE?
The price of rent
 WHAT ARE YOU INTO RIGHT NOW ( MUSIC, FASHION , ART,  FOOD)
 Music – been listening to old JLo lately. Fashion –Raf Simons Art- Loved the Cindy Sherman exhibit in NYC recently. Food- Korean BBQ
 IF YOU COULD LIVE ANYWHERE BESIDES WHERE YOU ARE, WHERE WOULD IT BE.?
 Rio – Brazil.
 WHAT MUSIC WERE YOU INTO GROWING UP- ARE YOU STILL INTO IT NOW
 Madonna. I have mixed feelings now. I mean flashing your nipple in your 50's ? Not sure how I feel about that.
 WHO'S YOUR FAVOURITE DESIGNER THAT YOU WOULD WEAR?
 Comme, Dior Homme, Givenchy
From Vogue UK November 2012 
WHERE ARE YOU GOING TO NEXT?
Back home to NYC.
 LIST YOUR 5 FAVOUIRITE FILMS ( and "why you chose them" if you want to ) 
 The Hunger – David Bowie, Catherine Deneuve AND Susan Sarandon… Need I say more?
 Eyes Wide Shut – I'm a big Stanley Kubrick fan. And I love how twisted this one is.
 Paris Is Burning – Trannies, Vogueing and Balls Oh My!!
 Showgirls – For sheer camp factor (guilty pleasure).
 Bladerunner – Because it was so ahead of its time… Major makeup moments!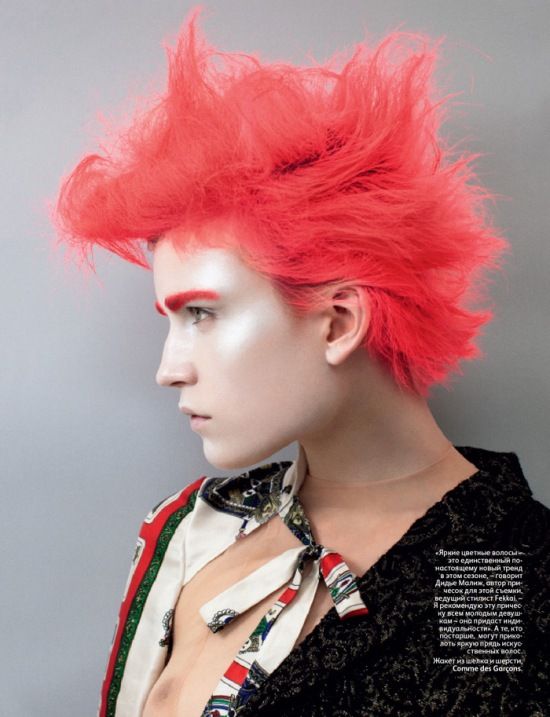 From Vogue Russia September 2011

LIST YOUR TOP 10 FAVOURITE SONGS, A KIND OF SOUNDTRACK TO YOUR LIFE ( and again "why you chose them"  if you want to) 
 Madonna – Like A Prayer
 Cheryl Lynn – Got To Be Real
 Grace Jones – Love Is The Drug
 Paula Abdul – Cold Hearted
 Nirvana – Drain You
 Portishead – Roads
 Prince – I Would Die 4 U
 Smashing Pumpkins – Mayonnaise
 Notorious BIG – Juicy
 Madonna – Justify My Love
LIST YOUR 5 FAVOURITE BEAUTY PRODUCTS TO USE
 Diorshow Extase Mascara
Lucas' Paw Paw Ointment
Diorskin Nude Fluid Foundation
Madina Chic n Shine Stick
Crest White Strips
DESCRIBE YOURSELF IN ONE WORD. 
 Optimistic
TO FOLLOW YADIM ON TWITTER CLICK HERE
SO THAT'S ALL FOLKS!!! THANKS FOR READING AND A GIANT THANK YOU TO YADIM FOR TAKING THE TIME TO ANSWER THE QUESTIONS.